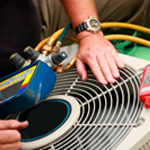 With regular maintenance you will prevent small problems from becoming big problems and ensure optimal performance of your comfort system. We also offer annual service agreements, which can reduce the cost of a Performance Tune-Up.
Regular maintenance will:
Provide longer lasting equipment
Reduce utility bills
Reduce repairs
Provide a more comfortable indoor environment
Protect your investment
What we do during a Performance Tune-Up:
21 point Precision furnace tune-up
1-Measure air temperature in and out of the system.
2-Inspect the furnace area for unwanted combustibles
3-Clean the flame sensor
4-Calibrate the thermostat, check for level and secure on the wall
5-Inspect the vent piping for proper clearances, leakage or any other safety issues.
6-Inspect filtration system and clean filter or replace as needed
7-Clean furnace combustion air screens or vents, assess their design for safety.
8-Check gas pressure and adjust as needed as well as the combustion for proper configuration
9-Check blower amps and capacitor (if Applicable)
10-Check inducer bearings and amps and overall integrity
11-Inspect condensate drains and p-trap. Clean if necessary
12-Scope the heat exchangers for signs of fatigue and potential cracks
13-Clean furnace exterior
14-Inspect connected ductwork for leakage and integrity
15-Inspect and flush the condensate pump (if applicable)
16-Tighten all electric connections both line voltage and control voltage
17-Test all Safety controls
18-Check for Rodent intrusion or damage
19-Use electronic sniffer to find any gas leaks
20-Check fuse box and electrical
21-Check for any code compliance issues
22 point A/C precision tune-up
1-Wash the condenser coil
2-Inspect all the electrical connections/fuses for proper ratings and style
3-Check the charge to factory specs
4-Replace or wash the furnace Filter to improve airflow
5-Inspect the duct connections to the furnace
6-Test temperature drop through the duct system for design or damage issues
7-Check blower motor cleanliness, oil if applicable, vacuum.
8-Check condenser fan motor bearings
9-Inspect condensate drain lines and clear out
10-Inspect Drain line safety shut of switches were applicable
11-Inspect evaporator coil for level
12-Inspect evaporator coil for signs of corrosion
13-Check compressor Terminals
14-Check compressor amps both start and running
15-Check condenser fan motor amps and volts
16-Check condenser fan motor capacitor
17-Check compressor run capacitor and start kit (if applicable)
18-Inspect accesses for leaks and all piping for damage and proper insulation
19-Inspect insulation on the refrigerant lines and integrity of the vapor barrier
20-Inspect line penetration into the home for rodent intrusion
21-Overflow protection pan and drain lines (horizontal applications)
22-Check fan blade for balance
13 point Air Handler Precision Tune-Up
1-Inspect Air Handler for being level
2-Inspect all duct connections to the air handler for leaks and seal
3- Clean coil
4-Inspect coil for refrigerant leaks
5-Check all electrical wiring and connections inside the air handler
6-Check heat strips and fused limits
7-Inspect fused disconnect and wiring
8-Condensate pan treatment with biocide to prevent legionnaires disease and mold
9-Inspect blower motor bearings and blower wheel
10-Clean blower motor and oil if applicable
11-Test all safeties
12-Inspect for rodent intrusion or damage
13-Clean drain pan and drain lines
17 point Performance Heat Pump Tune-Up
1-Wash the outdoor coil
2-Check the outdoor fan motor bearings and oil if applicable
3-Check fan blade for balance
4-Check all electrical wiring and connections at the fused disconnect
5-Check all the electrical wiring and connections in the outdoor unit itself
6-Inspect the coil and tubing for refrigerant leaks or corrosion
7-Check compressor amps on start up and run
8-Check charge of the system
9-Test defrost operations
10-Test all capacitors both motors and compressors
11-Check drain lines and clear
12-Inspect compressor terminals
13-Check Air Handler for duct leakage
14-Check line penetrations into the home for rodent intrusion or damage
15-Check line set insulation and UV protection
16-Look for any code Safety issues
17-Cycling of the reversing valve